Blues Entrepreneur
Port Townsend, WA – Area musician Chicago Bob Longmire is like a Mississippi bullfrog sitting on a hollow stump. He's got so many projects he don't know which way to jump. But he must like it that way, because he keeps on starting up more.
Born in Tacoma, Bob lived in Chicago for 40 years and moved back to Puget Sound upon retirement. And upon meeting Barb Dawson, who plays keyboards in their band and in their home. He thought he would have some extra time available when he retired. Boy, was he wrong about that. This is a listing of things that interfere with his leisure time.
Midnight Train Blues Band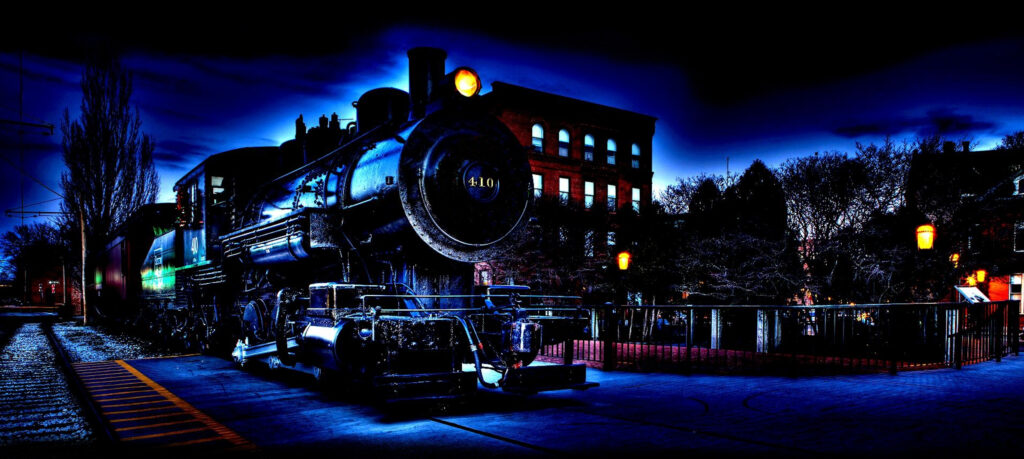 Blues, swing, dance music, fun jams with a Chicago Blues type lineup, with guitar, keyboards, bass & drum, harmonica and layered vocals. Playing in the Puget Sound area since 2015. We have Barb "Lulu" Dawson on piano & organ, Dan Stacy on top-notch percussion, Dave Olsen or Jayme Ryan on Bass, and Chicago Bob on guitar, vocals and harmonica. There's a web site for that:

Deeper Blues Radio Show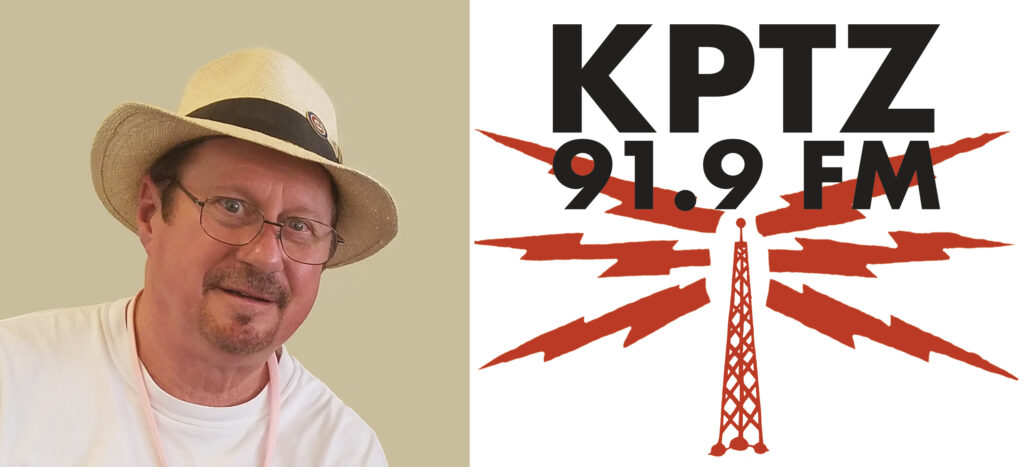 Every Tuesday at 7pm Pacific Time, Chicago Bob hosts Deeper Blues, an hour set aside for an in-depth review of various aspects of the Culture of the Blues. He's had shows on Chess Records, Blues Fiddle, Ladies of the Blues, Blues From Africa, West Coast Blues, Chicago Blues, Hill Country Blues, Jump Blues and many more. Each show is about 2/3 music and 1/3 narrative with stories, background on the musicians, the studio sessions and more. Each week we get to know the musicians better, we get to know the meaning of the music better, we get to know the times and the trends better, and through that we even get to know each other better.
Here are some archives of his past shows:

Port Townsend Harmonica Union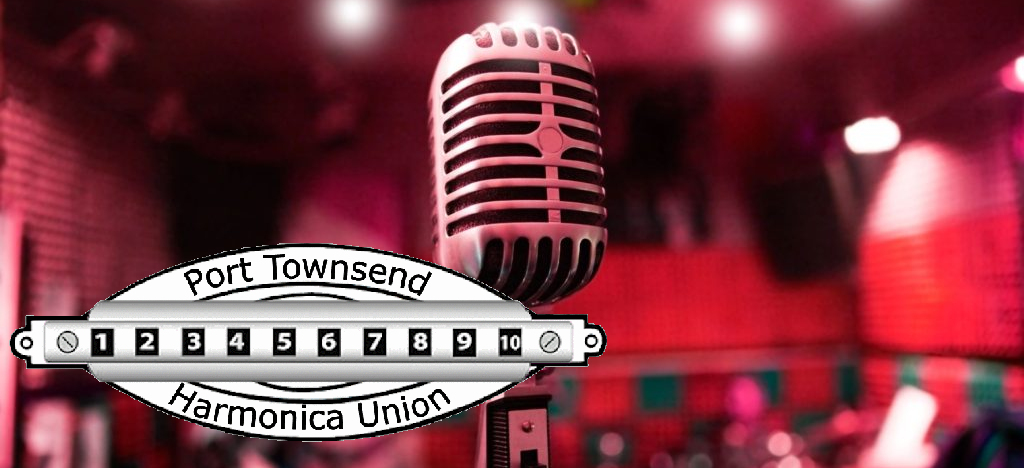 The PTHU is a teaching site, and an informal club started by Chicago Bob and George Yount in Port Townsend, with meetings interrupted by a certain COVID pandemic, but with songs on the website available throughout. And there is a web site for that:
Port Townsend Harmonica Union (PTHU)

The Port Townsend Blues Jam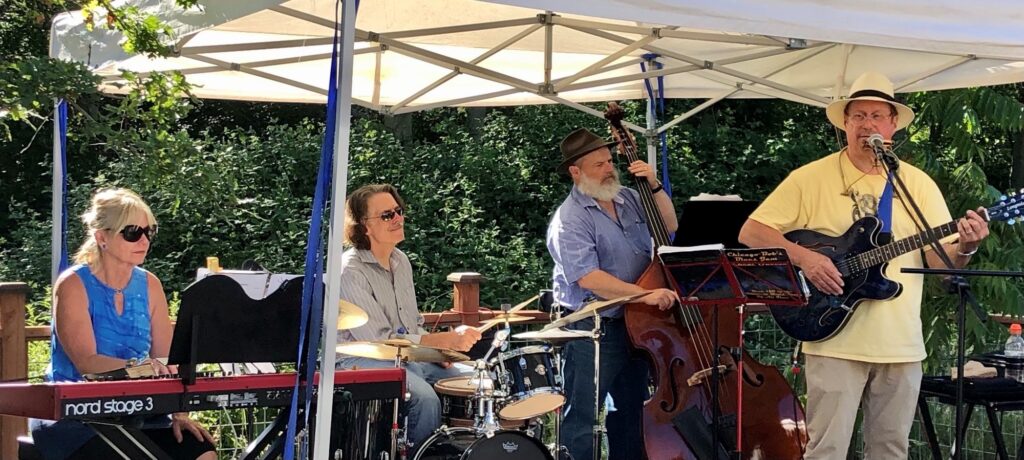 Once a month, we invite musicians to play along with the band. The Midnight Train leads off the set, and players bring amps and various toys to the party. We've had cornets, flutes, alto and tenor sax, flugelhorns, harmonicas, EWIs, (Electronic Wind Instruments) and more. Songs are run with plenty of room for guest solos, and singers are welcome if they're well known tunes. We have over 300 songs we can back up, charted in Chicago Bob's Blues Jam Cheat Sheets, Vol I and II, available from Crossroads Music in Port Townsend.
We are in our eighth season here in 2022, and we're enjoying the Blues Jam as a Sunday afternoon event, at Discovery Bay Brewing with five dates lined up for the summer: May 15, June 5, July 10, August 14, and September 18.
We even have ways to keep 15 amps from getting too loud, by sitting the musicians directly in front of their amps, and by just talking about volume fairly often. We use tunes that are fun and yet familiar, and there are plenty to choose from. It's a great way to dust off those amps and practice in a practical live setting, and to meet some really cool people. Several very cool combos have formed from the Port Townsend Blues Jam, friendships and connections of all kinds.

Encore with Taj Mahal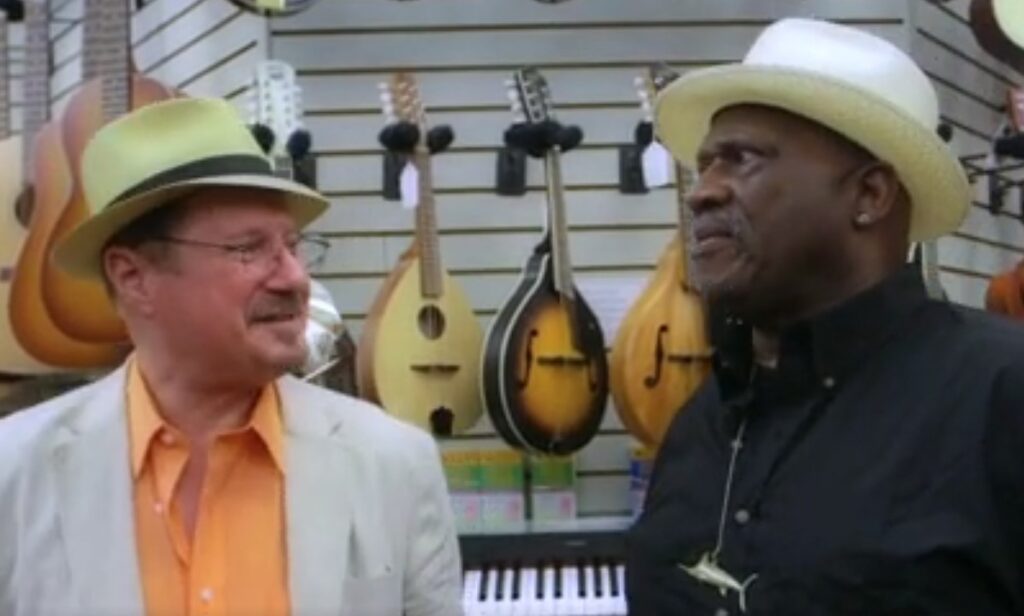 Prudential Financial Services produced three promotional videos about people who were retiring and launching new careers. I was grateful to be selected and to meet Taj Mahal, one of the top blues performers in the world. Good conversation and a very cool guy. They sent out a top notch production crew from L.A. and filmed at Buddy Guy's Legends, The Stage, Blue Chicago and the Old Town School of Folk Music. Here is the six-minute result of all that:

Blues Violin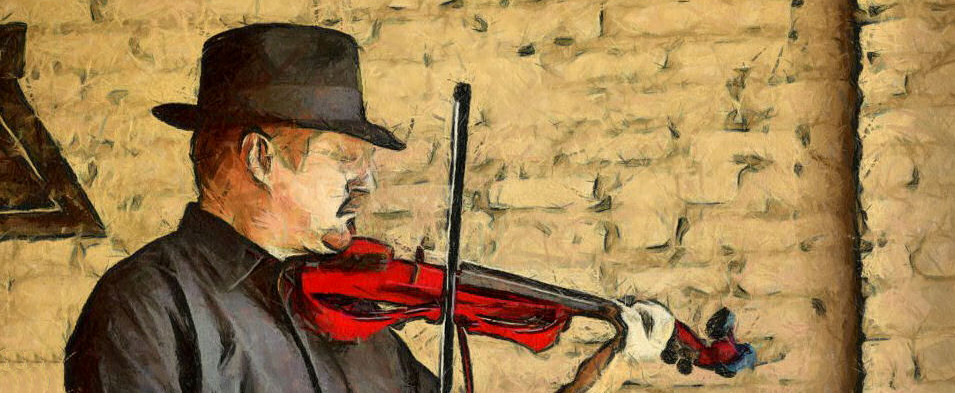 Violin was once a primary blues instrument, but early amplification did not work well in the 1930s and 40s. By the time we got better sound engineering in the 70s, horns and guitars had taken over, and this vital voice was way in the background. Bob is working with a combo in Port Townsend as a fiddlin' sideman, performances to be announced over the summer of 2021. And regarding blues violin in general, there's a web site (still under construction) for that:

Au Contraire Contra Dance Band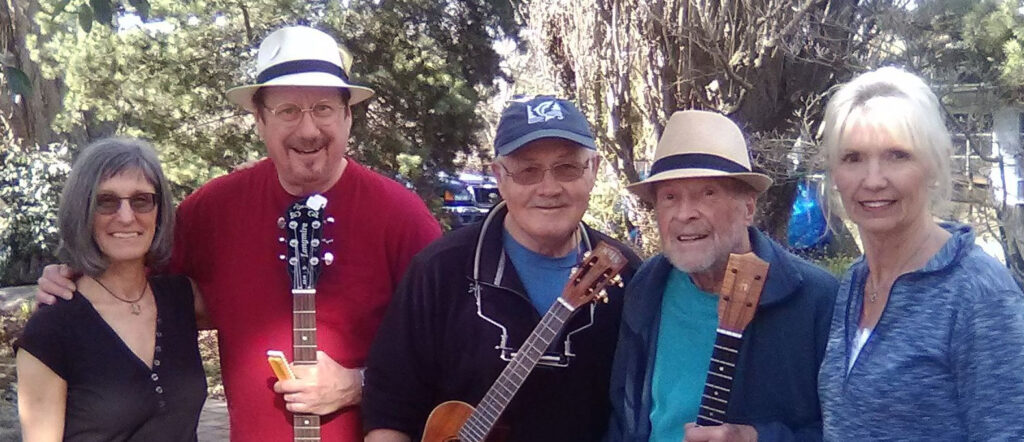 They said you needed fiddles to play for contra dances. And we said, "Au Contraire, mon ami." We play with ukuleles, harmonicas, guitar, keyboard and the doghouse bass. George Yount, center, is on ukulele and harmonica and Dick Hinman is lead ukulele. Barb Dawson, right is keyboards and Lori Bernstein is on bass. When the world is allowed to dance again we will be ready.

Ukuleles Unite!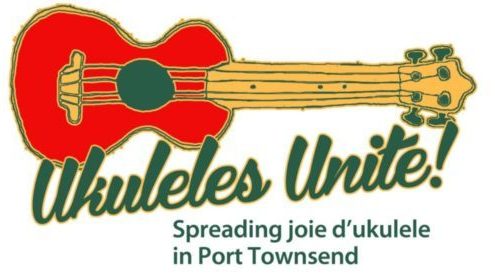 This is a great group, terrific people and I'm just a member, but have been to most of their in-person monthly meetings/jams. Served a while on the steering committee until a regular gig conflicted with the meetings. Also ran a weekly summer jam at Port Townsend's Haller Fountain for two summers before COVID stopped all that live fun with real people. We're all looking forward to things opening up in 2021, and knowing these people, it's going to be great fun! Check out their website:

Other than that, I don't have much to do.